Seattle is the largest city in the state of Washington. With over 700,000 residents, it makes up nearly ten percent of Washington State's seven and a half million person population. Seattle was incorporated in 1869 and quickly grew in population size due to railways, and gold rushes in the late 1800s.
It is now recognized as the birthplace of Starbucks, home to Amazon, Microsoft, and is a prominent tech capital of the world. There are over 100 prominent neighborhoods in Seattle, and countless activities, and histories within each one. Seattle is a home to near-endless exploration.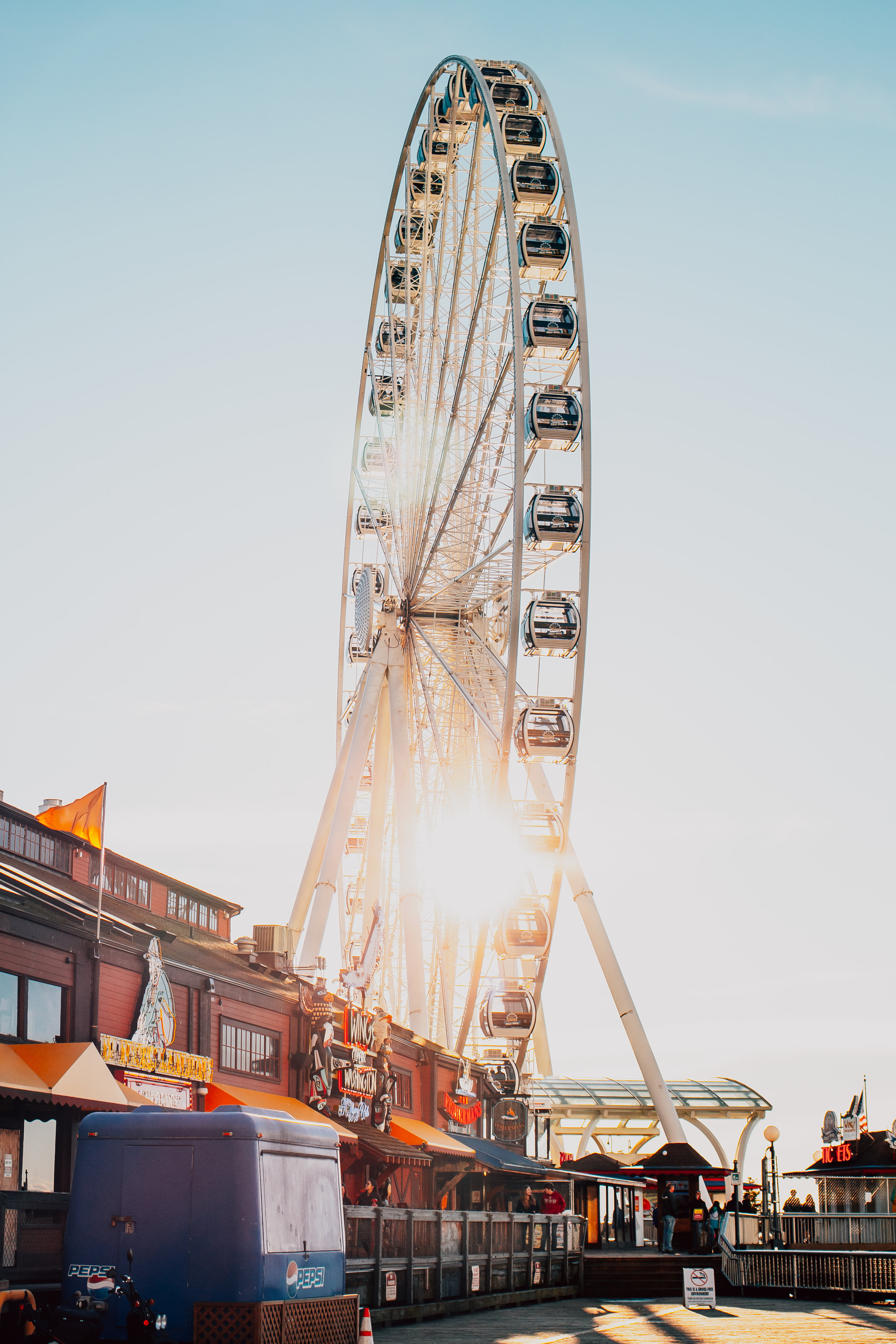 Seattle Great Wheel - Seattle Waterfront
The Seattle Great Wheel is a 175 foot tall ferris wheel located on Pier 57 along Seattle's historic waterfront. The Metropolitan Grill is a local favorite steakhouse located on Second Avenue in downtown offering fine dining in a classic steakhouse atmosphere.
The Seattle Art Museum is located on first avenue and features art from around the world as well as prominent local art. Barrio is located on Capitol Hill, and is a hip-atmosphere mexican cantina style restaurant featuring fun drinks and street-inspired food.
Gasworks Park - North Lake Union
The Olympic Sculpture Park is a free-entry, outdoor waterfront park on Western Ave featuring 21 sculptures, and breathtaking views of Elliott Bay. Lake Union features a walking/cycling trail around the whole lake including miniature waterfront parks along the way.
The Fremont Troll is a large Troll sculpture under the Highway 99 bridge in Fremont commissioned in 1989 to beautify the area under the bridge. It has since become a local attraction, and is a great place to take a picture.
Gas Works Park is a decommissioned coal gasification plant that was converted into a park by the city of Seattle in 1975. It features 19 acres of usable space, stunning views of Seattle, and is located on the north-side of Lake Union with water frontage.
Seattle - Bainbridge Ferry
The South Lake Union Streetcar connects the South Lake Union neighborhood to Downtown Seattle. It covers two and a half miles and is one of two operating streetcar lines in Seattle.
The Downtown Seattle Transit Tunnel is a 1.3 mile long pair of tunnels that runs underneath 3rd Ave to facilitate pickups and drop offs for commuters without interrupting the traffic flow above.
Seattle also offers commuter train service via the Sound Transit Sounder train all the way from Downtown Seattle to Everett, making stops in Mukilteo and Edmonds. The Sounder Train also runs between Lakewood and Seattle, making stops in South Tacoma, Tacoma, Puyallup, Sumner, Auburn, Tukwilla and Kent.
Bike Lanes abound throughout Seattle, with a bike lane through the Belltown neighborhood that is divided from traffic.